As U.S. manufacturers are gaining ground and looking to add more U.S.-based suppliers, Kenmode Precision Metal Stamping is offering an e-book to help original equipment manufacturers (OEMs) assess quality when comparing precision metal stamping companies. The contents provide a behind-the-scenes look at the processes and standards that should be in place to ensure quality in metal stampings, as well as objective benchmarks for purchasing managers and product designers to use when evaluating metal stamping suppliers for quality.
"Manufactu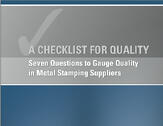 rers consistently rank quality as one of the most important factors in choosing suppliers," said Kurt Moders, president of Kenmode. "But assessing quality in metal stampings requires knowledge of the inner workings of highly specialized production and quality control procedures. Our hope is that this e-book will help make quality processes transparent to OEMs so that they can make informed choices."
"A Checklist for Quality" presents seven questions to gauge quality, covering:
• Quality control processes
• Quality monitoring equipment
• Advanced production technology
• Information technology and data sharing
• Global quality certifications
• Industry standards
• Employee training
• Zero defects
Download "A Checklist for Quality," to receive your free copy of this 19-page e-book.
Kenmode also regularly publishes blog articles on quality and other matters of interest to manufacturers on Kenmode's Precision Metal Stamping Blog.