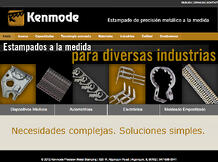 Kenmode Precision Metal Stamping has launched a Spanish-language version of its website to reach out to manufacturers and their suppliers in Latin America. Kenmode en español can be viewed at http://kenmode.com/spanish, which provides information on Kenmode's global capabilities in precision metal stamping for a range of industries, including automotive, electronics, and medical devices. Kenmode maintains a sales presence out of San Luis Potosi in central Mexico to serve domestic and multinational clients operating throughout Mexico, Central America, Puerto Rico, and Latin America.
In 2012, Latin America's largest economies are expected to experience a higher rate of growth in manufacturing, according to the Latin America Manufacturing Outlook, published at year-end 2011 by the Manufacturers Alliance for Productivity and Innovation (MAPI). MAPI expects growth to hit 4.4 percent in 2012 for Brazil, Argentina, and Mexico, which together represent 80 percent of the region's manufacturing output.
As companies headquartered in the U.S. and Europe have expanded their Latin American operations, Mexico, in particular, has come to play a pivotal role. "The United States is, by far, Mexico's leading partner in trade and investment, while Mexico is the United States' third-largest trade partner after China and Canada," stated a Congressional Research Service report.
Kenmode, through its advanced metal stamping capabilities, produces tight-tolerance, complex parts that meet the exacting quality standards of automotive, electronics and medical device manufacturers.
"With manufacturers operating on a global scale, suppliers such as Kenmode must be able to operate effectively across borders," stated Tim Lynch, Vice President of Sales and Marketing at Kenmode. "We hope to better serve our clients in Latin America with a Spanish-language website, as well as create opportunities for expanding our business among the world's more than 300 million Spanish speakers."