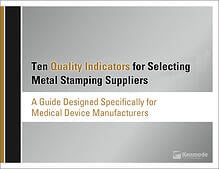 Kenmode Precision Metal Stamping has published an informative guide for medical device manufacturers to help them evaluate quality and identify best practices in metal stamping suppliers, based on findings published in the United States Food and Drug Administration (FDA) report entitled Understanding Barriers to Medical Device Quality. The Kenmode eBook is available for free download at "Ten Quality Indicators for Selecting Metal Stamping Suppliers."
FDA Identifies Significant Quality Issues
According to the FDA report, published in October 2011, the medical device industry has doubled in size in the last ten years, while "serious adverse event reports related to medical device use have outpaced industry growth by 8% per annum since 2001." The FDA study of "marketed" devices pointed to the growing innovation and technical complexity of new medical devices as one cause of the growth in adverse events. "The sophistication of tools and practices used to drive quality and reliability through the medical device value chain does not appear to have kept pace with the increase in device complexity," the report states.
The Kenmode eBook, entitled Ten Quality Indicators for Selecting Metal Stamping Suppliers, is intended to help medical device manufacturers evaluate the level of quality in their metal stamping suppliers, which may produce anything from micro-miniature parts in exotic metals to larger, heavier metal components.
"The reliability of medical devices can be a matter of life and death for patients, so medical device manufacturers cannot tolerate defects in even the smallest part," said Pat Kenkel, Director of Quality, Kenmode Precision Metal Stamping. "Compliance with FDA regulations is only the beginning of quality assurance. Achieving the highest quality standards takes a commitment to zero defects throughout the production process and the entire supply chain, which can involve hundreds of suppliers for global manufacturers."
The Kenmode eBook describes how metal stamping quality depends upon such factors as a company-wide commitment to quality and ISO standards, rigorous risk management and change control, prevention-focused process control that employs advanced metal stamping technology, and careful supplier selection. The FDA highlights seven major opportunities for improving quality in the medical device supply chain, covering enhanced operating systems, management infrastructure, and mindsets and behaviors related to quality.
"In complex products with multiple components, the key to quality is an emphasis on prevention of problems," Kenkel said. "To ensure quality in medical stampings, metal stamping companies can employ such tools as in-die detection sensors, optical vision systems, and statistical process control systems to identify problems in real time and to monitor quality at every phase of the metal stamping process, from design through shipment."
More information on precision metal stamping quality for medical devices is available at kenmode.com.