Kenmode Precision Metal Stamping has developed a new Rapid Transfer Program to make it faster and simpler for manufacturers to transfer their custom tools and dies and avoid costly production delays.
As the worldwide economic downturn has strained many suppliers to automotive, medical device, electronics and other manufacturing sectors, manufacturers are experiencing extreme instability in their supply chain for component parts. The Kenmode Rapid Transfer Program offers a straightforward process for manufacturers to transfer their tools quickly to Kenmode, saving time and expense.
"The economic recession and natural disasters have shown how vulnerable manufacturers can be to disruptions in the supply of even the smallest component parts. A shutdown can cost thousands of dollars a minute, so manufacturers are looking to diversify their suppliers," said Jim Loffler, Director of Engineering for Kenmode. "Because we have seen manufacturers forced to scramble to replace suppliers at the last minute, we developed the Rapid Transfer Program to help them make the switch with no downtime."
How the Rapid Transfer Program Works
The first step in the Rapid Transfer Program is for Kenmode to provide a quote for running the die and producing the parts. In order to provide an accurate estimate, the manufacturer will need to supply as much information upfront as possible, including a sample of the part, the print, production volume, quality issues, and other critical information.
The next step is to ship the existing tool and die for inspection by the Kenmode engineering team, who will determine if it meets quality production standards or if it needs repair or redesign. For a minimal fee, Kenmode will provide an in-depth evaluation, including estimates for the costs of any necessary die repairs or the design and production of a new die. If the manufacturer wishes to avoid transferring the die from an existing supplier, Kenmode can create a new die from scratch, although that option is typically more expensive than a transfer.
The Kenmode Rapid Transfer Program has already met the tightest deadlines and quality specifications. An automotive client called Kenmode to handle a rapid tool transfer for several critical parts, when one of their suppliers was having financial difficulties and could not purchase the materials needed, which threatened immediate slowdowns in manufacturing.
"A representative of the company drove three of their most critical tools to Kenmode on a Monday. By Friday, Kenmode engineers had inspected the dies, transferred the tools, sourced the materials, produced the parts, performed secondary operations, and shipped the finished components – all to PPAP and quality standards," stated Loffler. "All told, Kenmode produced 21 tools for this company in record time, which helped them avoid a shutdown."
"Of course, quality is a big concern when manufacturers are seeking new suppliers. We recommend that every transferred tool and die gets tested before going into production to ensure that the parts will meet quality standards and to avoid crashing the system," Loffler explains.

eBook Provides Keys to a Successful Transfer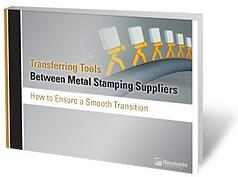 Although this customer transfer story was a success, manufacturers with any concerns about their current suppliers are advised to investigate their options for a tool and die transfer long before a crisis arises.
To help manufacturers understand the keys to a successful transfer, Kenmode has produced an informative guide, available for free download: Transferring Tools Between Metal Stamping Suppliers: How to Ensure a Smooth Transition.
About Kenmode Precision Metal Stamping
Since its founding in 1960, Kenmode has built a reputation for strict adherence to uncompromised quality and performance standards in the manufacture of complex, high-precision custom metal stampings and assemblies for the automotive, electronics, consumer goods, insert molding, and medical device industries. Today, Kenmode fields one of the largest and most experienced engineering, design, and tool & die teams in the industry, handling a wide range of materials and component parts, from micro-miniature medical stampings to large automotive stampings.
###