It all started back in 1960, when Werner Moders and Ken Haber made the decision to open the doors of Kenmode Tool & Engineering, a small tooling shop in Crystal Lake, IL.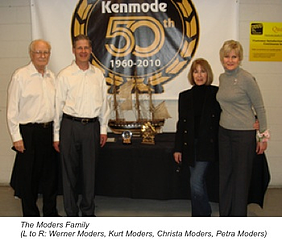 Still a family-run business, now located in Algonquin, IL, Werner Moders remains the Chief Executive Officer of what's now known as Kenmode Precision Metal Stamping. His son Kurt, who grew up in the business, was promoted to president in 1990, five years after Haber died.
"It's hard to belie

ve

how far we've

come," states the younger

Moders

. "From building dies to producing complex, high-precision
custom metal stampings
and assemblies for customers all over the world."
"We ha

ve

over 130 employees right now – an exceptional team with diverse skill sets and excellent craftsmanship combined with many years of experience,"

Moders

proudly states. "We are capable of running a full-service operation which includes custom design engineering, rapid prototyping, in-house tool build, stamping production, assembly, various secondary operations, and inventory management."
Although Kurt

Moders

believes the secret behind Kenmode's success lies in the experience of its people, he recognizes the importance of always keeping up with the latest technology.
"It's amazing what people can do when you gi

ve

them the technology."

Moders

states. "We began designing on a drawing board, then in 2D

AutoCAD

, and now we're designing in 3D."
"Although the parts keep getting more complex, the 3D technology and advanced design software packages allow us to find simpler, less expensive ways to design the parts – and that's what our customers want. However, it's the depth of experience in our design team that has allowed us to create the innovative design solutions."
"It's staggering to see how
precision metal stamping technology
has changed over the last 50 years," states

Moders

. "No more simple punch presses – now it's robotics, in-die sensors, and video-inspection systems."
"Parts are stamped using

Bruderer

and Minster presses while tooling components are cut by wire 'electrical discharge' machines," states Ken

Wojcik

, Vice President of Operations. "Using electricity directed through wire twice the thickness of a human hair, these EDM machines are capable of cutting intricate shapes in steel and carbide in very close tolerance."
Kenmode

utilizes advanced technology to work with a wide range of
metal stamping materials
including aluminum-clad copper, beryllium copper, brass, bronze, titanium, mylar, stainless steel,

tantilum

, and an array of high-performance alloys. This versatility allows

Kenmode

to produce precision metal stampings for a variety of industries -- from micro miniature parts made with very thin material for the medical device industry to the strongest steel components required by the automoti

ve

industry.
Customer expectations have also driven the need for advanced technology.
"Customers demand perfection today," states

Moders

. "Zero-defects is an expectation – not a goal."
"Our video inspection system is capable of magnifying parts up to 240 times their size," remarks

Wojcik

. "Finding defects is not a problem. We ha

ve

also 'mistake-proofed' our entire process. Stringent quality controls are built into every step."
As for the next 50 years? Well, Kurt

Moders

jokes, he'll be retired by then. But he expects the company's growth to continue.
"When I look back at how much the business has evolved over the last 50 years, it's hard to imagine what it will look like 50 years from now. But one thing is certain – it will be different. At

Kenmode

, we're ready to embrace the change."
-----
About Kenmode Precision Metal Stamping
Kenmode Precision Metal Stamping produces complex high-precision, custom metal stampings and assemblies for the automotive, electronics, consumer goods, insert molding, and medical device industries. Kenmode employs the latest technology available throughout the design and production process, including robotics, in-die sensors and video inspection systems. Kenmode has the ability to handle a wide range of materials and component parts from microelectronic stampings to large automotive parts.