ALGONQUIN, I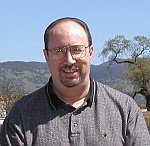 L - Kenmode Precision Metal Stamping announced that Jim Loffler has been named Director of Engineering for the company. Loffler will be responsible for engineering functions at Kenmode including new tool design, build, and procurement, project management, engineering change management, and engineering process control. Loffler will also be the primary engineering interface with customers.
"We are very excited that Jim has joined the Kenmode team," states Kurt Moders, Kenmode's President. "He knows this business inside and out. With Jim's in-depth knowledge and wealth of experience, he will be an outstanding resource for both Kenmode and our customers."
Loffler has nearly 40 years of experience in the tool & die industry. Some of his positions include tool & die maker, tool designer, journeyman, and die engineer/builder. He has managed tooling and engineering departments for companies including Master Specialties, Kwikset Corporation, and Eclipse Manufacturing Corporation. He developed marketing expertise as a Product and Application Manager at Dayton Progress Corp. Loffler has also served in executive positions such as General Manager of Tek Guthrie and as General Manager of the Tooling Technologies Division at E-M Solutions.
"One of the main things that impressed me about Kenmode was their performance during the downturn," states Loffler. "Kenmode is very stable and well-positioned in the metal stamping industry. Their high-tech abilities and commitment to quality are superior. I was also very impressed with the entire management team."
Loffler currently holds 2 patents, is a member of APICS and the Precision Metalforming Association (PMA), and is certified in multiple APICS and Zenger Miller manufacturing and leadership programs.
About Kenmode Precision Metal Stamping
Kenmode manufactures complex, high-precision custom metal stampings and assemblies for the automotive, electronics, consumer goods, insert molding, and medical device industries. Kenmode employs the latest technology available throughout the design and production process, including 3D design, robotics, in-die sensors and video inspection systems. Kenmode has the ability to handle a wide range of materials and component parts from micro miniature medical stampings to large automotive stampings.