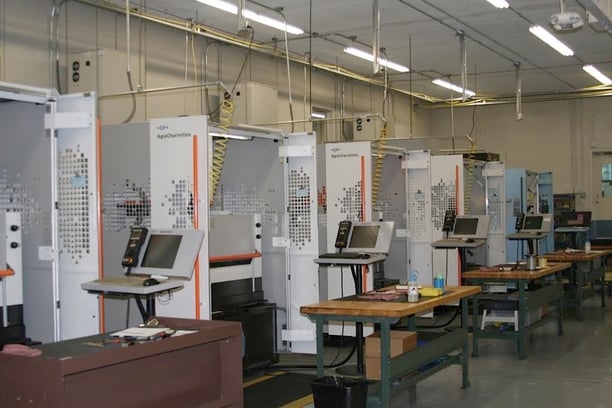 Kenmode Precision Metal Stamping has opened a new 20,000-square-foot Tech Center dedicated to research and development, prototyping, engineering, tool design and build, and program management for new products. The new Tech Center combines advanced technology with added equipment to speed development of new metal stampings.
Kenmode's existing 80,000-square-foot operations facility is being reconfigured to handle higher volume production and to make room for new equipment. The expansion enables Kenmode to provide a broader array of metal stampings and value-added services to clients in industries including automotive, medical devices, insert molding and electronics.
"Kenmode is continually investing in the latest technologies so that we can better serve our customers," says Kurt Moders, president of Kenmode. "Our new Tech Center is entirely dedicated to new product development, which allows us to help our clients get their products to market more quickly. We are also expanding services such as specialized assembly and other secondary operations in response to growing market demand."
The Tech Center enables collaboration between every facet of new product development, which involves tool design, simulation software analysis, prototyping, and tool building. Presses have been installed in the new Tech Center to be used exclusively for prototyping and die tryouts. In the past, die tryout runs would have to be scheduled around regular production runs.
"At Kenmode, we recognize the critical importance to our clients of getting their new products to market as quickly as possible, while ensuring long-term quality and performance," explains Harry Dickerson, vice president of engineering for Kenmode. "By investing so much in upfront development and testing of new metal stampings, we gain insight into the optimal die design and function of each new part to ensure that it will transfer smoothly to full production."
The Tech Center is located across the street from Kenmode's headquarters building at 820 West Algonquin Road in Algonquin, Ill., which is 30 miles northwest of Chicago's O'Hare International Airport and other major distribution channels.
About Kenmode Precision Metal Stamping Since its founding in 1960, Kenmode has built a reputation for strict adherence to uncompromised quality and performance standards in the manufacture of complex, high-precision custom metal stampings and assemblies for the automotive, electronics, consumer goods, insert molding, and medical device industries. Today, Kenmode fields one of the largest and most experienced engineering, design, and tool & die teams in the industry, handling a wide range of materials and component parts, from micro-miniature medical stampings to large automotive stampings.